Independent Energy Storage Systems
Holu Hou Energy is a Delaware Corporation, bringing state-of-the-art renewable energy and energy storage systems to the Single-Family Residential, Multi-Dwelling Unit Residential and Commercial building markets.
With operations in California, Arizona, Hawaii, Wisconsin, Montana and Shanghai, HHE engineers' proprietary storage system and control platform solutions, including a breakthrough "HHE EnergyShare" technology, are key developments for the Multi-Dwelling Unit Residential housing market. HHE is a vital partner for investors and Multi-Dwelling Unit asset owners that are seeking de-carbonization solutions.
CEO, EnSync Energy
VP and General Manager, Applied Materials Inc. for Semiconductor and Solar Products
Aerospace Power Systems Program Manager and Engineer, The Boeing Company
Brad has over 30 years of professional experience with engineering experience in semiconductor and aerospace fields and C-Level experience in semiconductor and photovoltaic (PV) module capital equipment design, manufacturing, sales and marketing, and customer service.
Brad began his career as an engineer at The Boeing Company, where he worked as a Product Line Manager for Aerospace power electronics systems, including advanced DC-DC and DC-AC converters and power distribution systems for multiple spaces and defense-related products. After earning an MBA, he joined Applied Materials Inc., the world's largest
supplier of semiconductor capital equipment. He held a number of positions in the semiconductor and solar business units, ultimately advancing to Corporate Vice President with P&L responsibility. While at Applied Materials, Brad grew two business units from less than $100M to more than $1.0B annual sales, and also led M&A and integration for a
$200M acquisition of a solar and LED/LCD display equipment company.
Brad has extensive experience in international business, including Europe, Japan, Taiwan, Korea and Singapore, and lived and worked for nearly 4 years in China.
CEO, Holu Energy / VP EnSync Energy
Hawaii State Energy Administrator, Booz Allen, Johnson Controls, U.S. Navy
Ted has more than 25 years of senior leadership experience in business, government, and energy management, including development of the Hawaii Clean Energy Initiative as the state's Energy Administrator.
Ted led energy planning, shaping of the state's approach to renewable energy permitting and facilitation, the state hydrogen program, the greenhouse gas emission reduction task force, energy assurance planning, and other strategic initiatives and programs. In 2010, Peck re-entered the private sector where he continued to focus on reducing the state's dependency on fossil fuel through transformation, recapitalization, and the use of renewable energy, with a continued emphasis on microgrids and distributed assets.  He was a leader in an attempt to recapitalize Hawaiian Energy Industries, which was imitated by Nextera.  He has successfully negotiated over 50 power purchase agreements.  He is a seasoned expert in energy management and understands the unique challenges of Hawaii's energy landscape and the value that efficiency and renewable energy brings to the islands he calls home.
Peck is a retired Navy nuclear submarine officer and earned a Bachelor of Science in physics from the United States Naval Academy in Annapolis, Maryland. At Johnson Controls, he led the Solutions team that closed the largest performance contract in the company's history, a $150M retrofit of the 12 airports of the State of Hawaii.  As a Principal at Booz Allen Hamilton, he opened the Honolulu office and led it through 40% CAGR growth in its first five years.  In 2004, he was named a "Forty Under 40" by Pacific Business News and in 2006 became a Pacific Century Fellow. Peck was selected as one of state's "20 Leaders For the Next 20 Years" by Hawai'i Business Magazine in 2010. 
VP of Asia Business and Operations, EnSync Energy
China GM, Flint Group
Senior Manager, Applied Materials Inc. for Solar Products
SBU Manager, DuPont
Division Manager, 3M
Sherry has over 25 years of experience with Business, Strategic partnerships acquisitions, and Supply chain management in photovoltaic (PV), semiconductor, petrochemical industry.
Sherry worked for ESNC as VP of Asia Business Operations to form JV, strategic partner selection, financing, product portfolio strategy. Prior to that, her extensive new energy, high tech, and materials science experience included key leadership positions in Applied Materials, Dupont, and 3M.  
Sherry earned an MBA from Shanghai University of Finance and Economics and a Bachelors degree in industry chemical engineering from Shanghai University of Technology.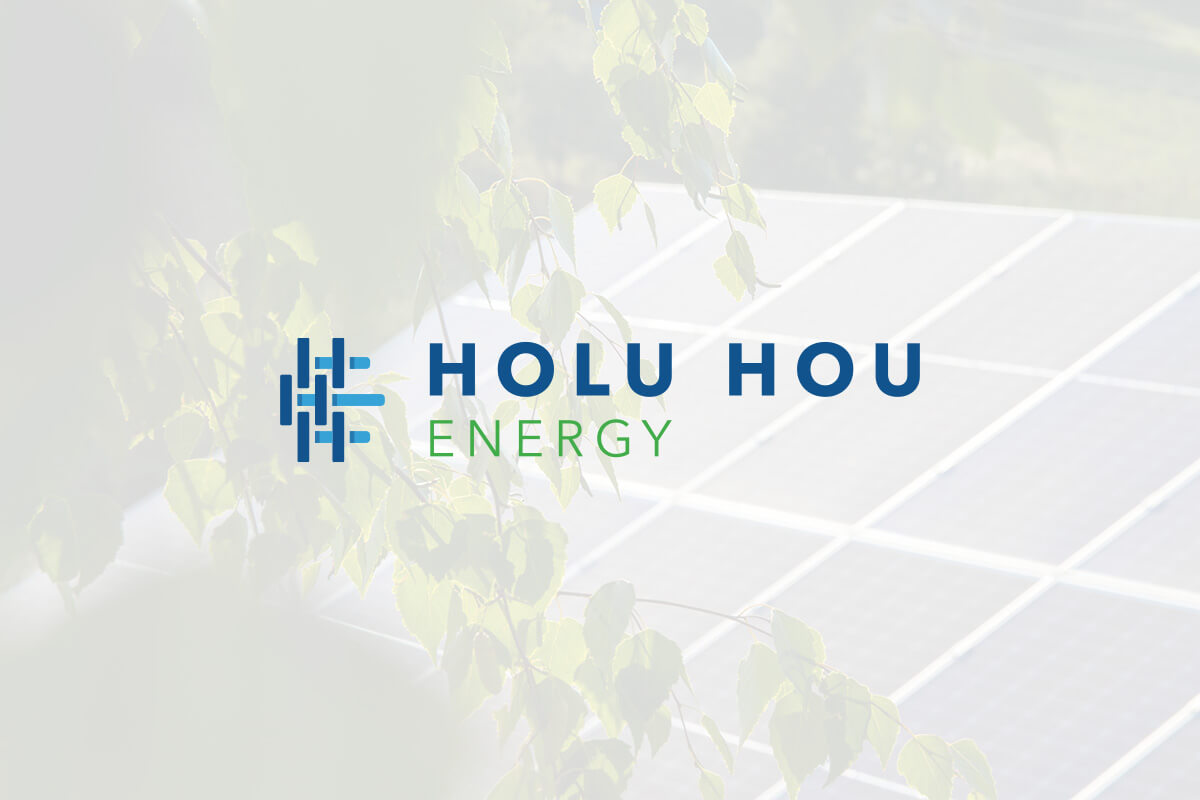 Pacific Edge recognizes Holu Hou Energy as the 2023 Innovative Tech Company of the Year at their Annual Gala.
"Ted and his team have developed multiple projects that I have been involved with. Each project has performed above expectations. I am impressed with their diligence, follow-through, innovation, and integrity, and would recommend them to any facility owner."
"The energy sharing technology from HHE enabled us to install renewables at our Koa'e site, where we may not have been able to otherwise. The HHE team has executed the project to our utmost satisfaction, and we hope to work with them on additional sites in the future."