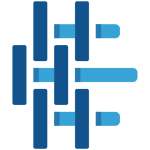 One Stop Solar + Energy Storage Solutions
Saving Money for Hawaiian Homeowners with a Hawaiian Product
Holu Hou Energy is unique in the state – we're a Hawaiian company that engineered our own solar energy storage product to benefit the people of Hawaii. When you buy a system from us, you're getting more than just the leading energy storage system technology. You also get a hands-on relationship and level of care that can only come from a locally-owned company. We've installed solar and energy storage systems for hundreds of Hawaiian homeowners, saving money and improving lives of families throughout the state.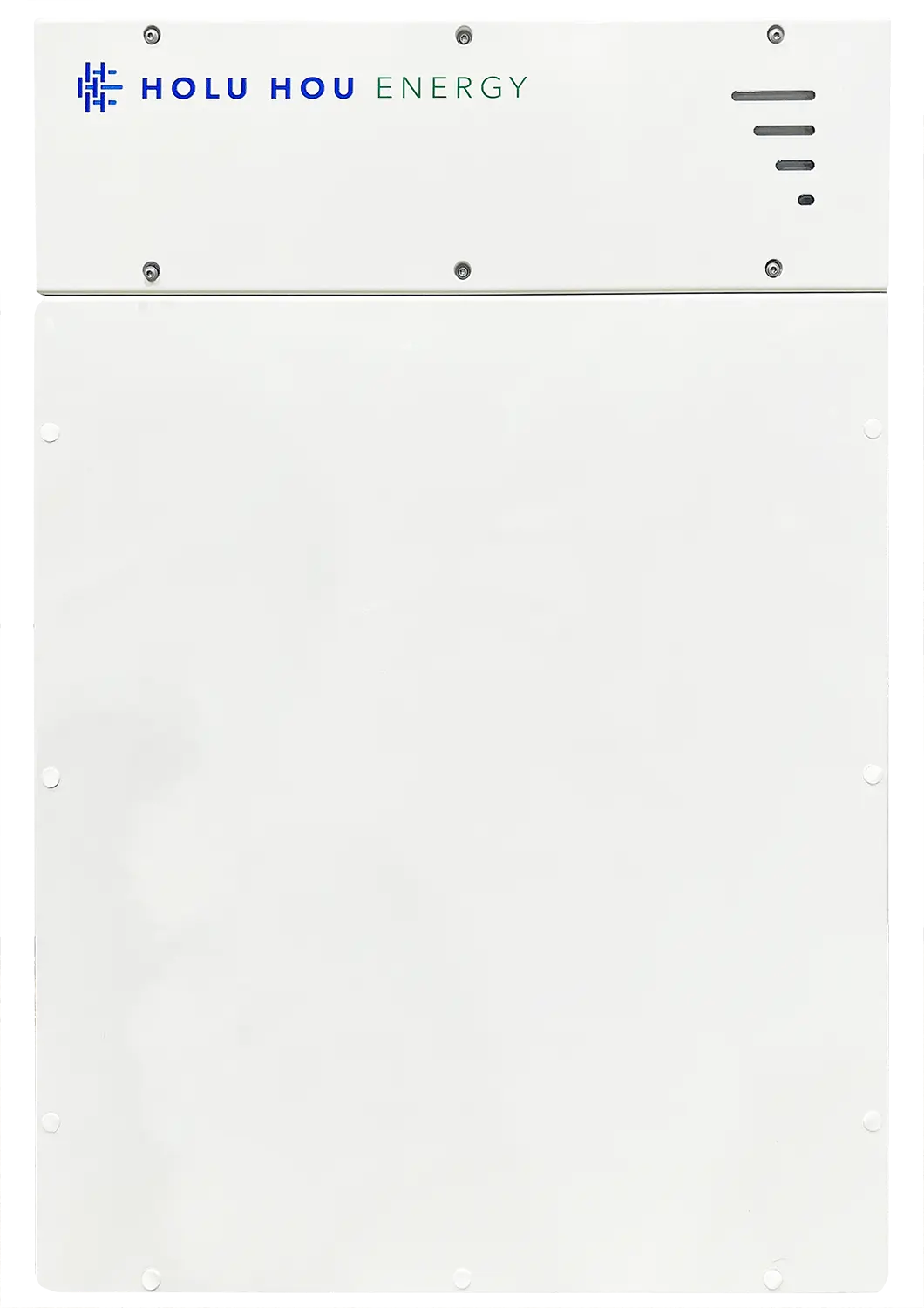 More Secure. More Power. More Control.
HoluPower xP Energy Storage System
HoluPower xP Energy Storage System is the only 3rd Generation Energy Storage System available in Hawaii.
Safer lithium ion battery chemistry – with greater resiliency against overheating and overcharging than other major brands that use less stable, more flammable, and higher toxicity chemistries.
More system power – enough power to enable homes to operate their appliances during an outage, similar to that of utility power.
Greater system modularity – each system can support four strings of PV and up to four 8.2kWh battery modules. Multiple systems can be connected together in a sharing link for even greater capacity.
Higher power for each battery module – a very important attribute for locations where battery subsidies and bonus programs exist.
Energy control – through the Holu Hou Energy Modular Energy Control platform.
Integrated home load control – so both renewable energy supply and load/usage can be scheduled or optimized with one another in real time.
Standard wired internet connection – with optional WiFi or cellular communications.
Better system conversion efficiency – compared to "AC Battery" systems, like those from Tesla.
Financing, Tax Credits, & State Programs
Holu Hou Energy offers financing alternatives for your system, including cash purchase or using available 3rd party financing or leasing. We can also help you maximize your federal and state tax credits that can offset your solar and storage purchase by as much as 65%. We will work with you to ensure maximum available credits and cash from Hawaii State programs like the Hawaii Scheduled Dispatch ("Battery Bonus") Program, where the state will pay you for your battery power once your system is operating.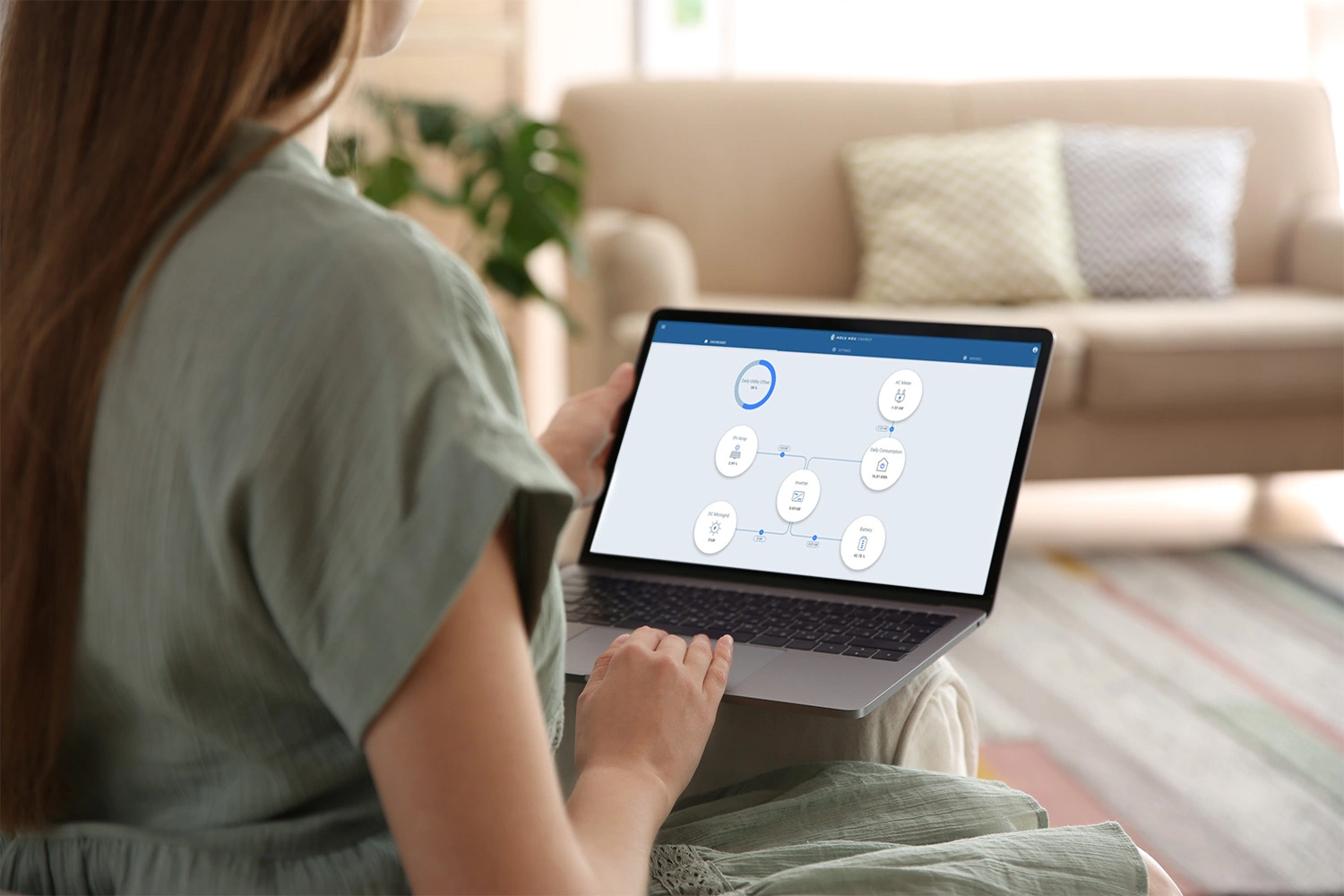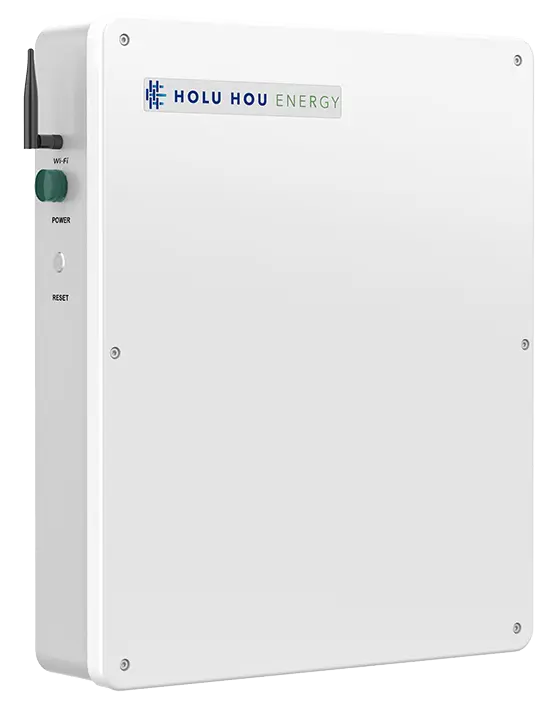 Making the Smart Home a Reality
The HoluPower SmartPanel is your key to making the Smart Energy Home a reality, with or without solar and energy storage. It allows you to customize your operation of high energy usage appliances in a way that will minimize your utility bill. When integrated with a HoluPower xP solar energy storage system, you can integrate control over both your energy supply and your energy demand. The SmartPanel also allows you to decide which appliances you want to prioritize in the event of a power failure, so your solar and battery can be used for your most vital activities.
Contact us for any information or specifications on any of our products.
| | |
| --- | --- |
| Model Number | 5020H-SP |
| | |
| ELECTRICAL DATA | |
| Voltage Range (VAC) | 211~264 |
| Nominal AC Voltage (VAC) | 120/240 |
| Feed-In Type | Split Phase |
| Frequency Range (Hz) | 55~65 |
| Nominal Frequency (Hz) | 60 |
| Supported Loads (A) | 20 Channels (up to 50A ea) |
| Grid CT's (A) | 2 x 200 |
| Supported Input Source | Generator / Inverter |
| | |
| GENERAL DATA | |
| Operating Temperature Range | -4F~122F (-20C~50C) |
| Relative Humidity | 0-95% Non-Condensing |
| Maximum Operating Altitude | ≤ 9842 Ft (3000 m) |
| Cooling Method | Natural Convection |
| User Interface | LED & APP |
| Communication | LAN, Wi-Fi, Bluetooth, Cellular hotspot |
| Weight | 24 lbs. (11 kg) |
| Dimension (W x H x D) | 19.7in x 23.6in x 4.7in (500mm x 600mm x 122mm) |
| Noise Emission | ≤ 29 dB |
| Mounting Method | Wall Mounted |
| Protection Degree | Type 4X |
| Standard Warranty | 10 Years |
| | |
| CERTIFICATION AND STANDARD | |
| Safety Regulation | UL916 |
| EMC | FCC part 15 Class B |
Solar for Hawaii Condominiums & Townhomes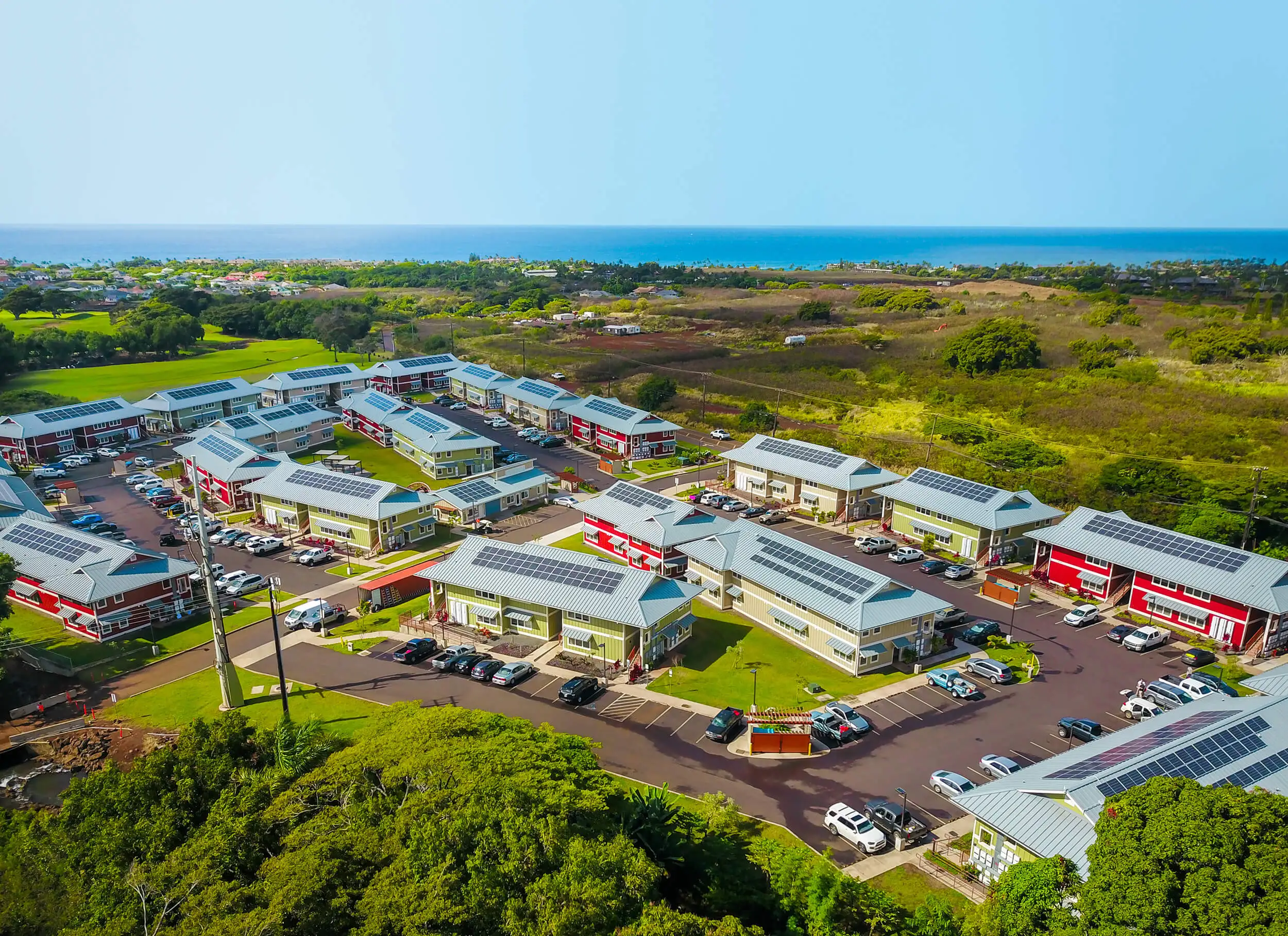 Holu Hou Energy can also help reduce the utility bill for homeowners in townhomes and condominiums that are apart of a homeowner association. If the HOA simply sign-ups to buy solar electricity at a given rate over a 20-year period, the homeowner will never see a bill. HHE will arrange financing through either a lease or a power purchase agreement (PPA) and a homeowner can begin saving immediately. When you get your neighbors to participate, you will all save more thanks to our HHE EnergyShare Technology. Contact us to find out how it works.
Solar for Hawaii Low-Income Housing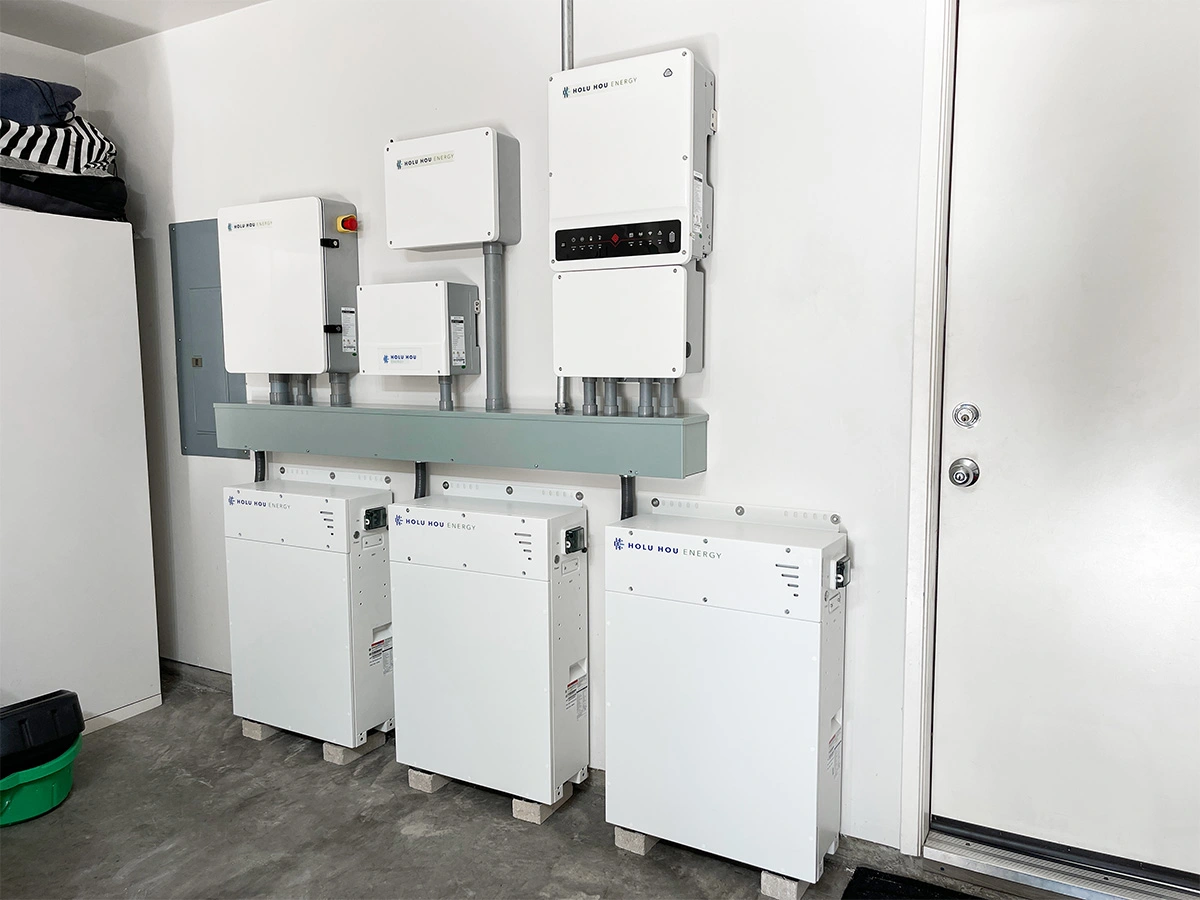 Since we began installing systems in 2020, HHE has brought inexpensive renewable energy solutions to more than 150 families in Hawaii. We have created lease programs for individual homes and power purchase agreements for multi-dwelling unit (MDU) workforce housing properties. Where possible, we also partner with the Hawaii Green Infrastructure Authority (GEMS) to reach economically disadvantaged communities. Call us to learn more.
We have a team of Solar and Energy Storage professionals that will help you configure the best possible system for your home. Just reach out and call or email us today to schedule an appointment and we'll get you saving money on your utility bill in no time!